Review: COD: Modern Warfare 3 (Video Game)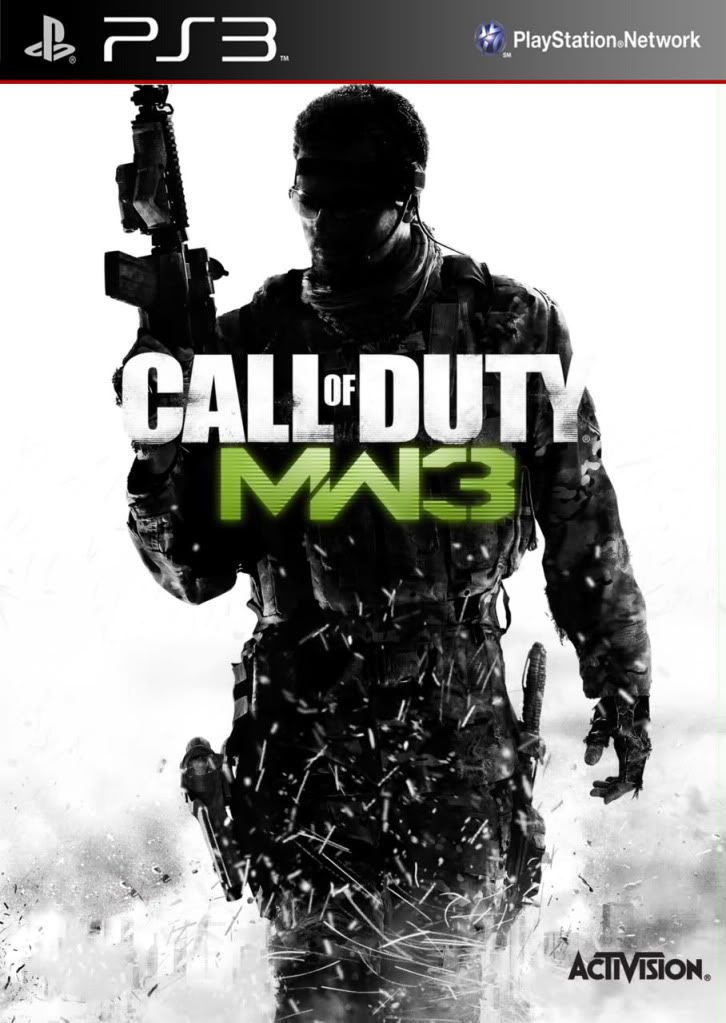 Although it's been a few months sense the release of this game, I just got it yesterday and I love it! I haven't gotten Black Ops so I don't know what improvements they did from MW2 to Black Ops so the improvements they made from MW2 to
MW3
are waaaay better! I haven't beaten the story yet so I can't really review that yet, but I will as soon as I do! The Multiplayer is cool lots of stats and challenges easier to access stuff and I seem to be good at semi-kicking peoples butt! (Considering I've had for 1 day and haven't played COD in awhile!) Special ops is way cooler, with new missions and new survival mode! Plus you can join other people on the internet too which I believe MW2 didn't have. I like how your guns have ranks and you have a different rank for Special Ops than you do for Multiplayer. A lot of people say MW3 is good if you don't like more realistic game play...well first of in real life 1 bullet you probably don't have the energy to shoot back let alone jump round and shoot a round at them. So everything is cool for me. I love the game can't wait to get better and rank up and beat all the challenges! (I'm playing on PS3 fyi) I also like how you can play split screen on and offline! I think
Modern Warfare 3
is a huge step up from Modern Warfare 2! Lots more customization and ranks and it's just so fun! I recommend it!
(Update: March, 24, 2012)
I finished the story mode, and it was pretty good! As usual it was a little shorter than most games, but it was still fun and it had lots of twists and turns. The Special Ops are really good I'm about half way through them. The multiplayer has a community playlist area where you can play infected! I remember this modded game from MW2 and I'm glad they added this as an official game type. Infected is team deathmatch but after 5 seconds a person is 'infected' and tries to kill another person to make them 'infected' and you try to spread the 'infection' to everyone. But when your infected you can only use a knife and throwing knife. (Usually, sometimes you get a pistol or something but that doesn't happen often) Another thing I noticed was the prestige shop! You get a prestige coin every time you prestige (Up to ten times). And you can spend it on:
Extra Custom Class
Double XP (two hours in-game time)
Double Weapon XP
Regular Package (Callsign Title and Emblem)
Unlock Gear (Choose one item that's unlocked permanently)
Hardened Package
Veteran Package
Reset All Stats (resets everything, including your Prestige Level)
I think this is awesome. Modern Warfare 3 is a huge step up from Modern Warfare 2.
Quick Review: Nice improvement over MW2 I like the new features of Survival Mode, Special Ops, Multiplayer and more.
Recommend Buy?:
Yes
, if you have the money to spend.
You earn points by doing offers, surveys, and playing games. If you
sign up
PM me for help and to chat!
(Fireball916)
Suggest on what I review next! Send me an email at fireball916@gmail.com with the subject of 'Review: Blank'
(Replace Blank with what you want to be reviewed.)
Don't forget to Comment and Suggest!